by Leah & Tom Powell
Mar 27, 2020
We Still Believe
We Still Believe
We believe in America
We believe everyone will bounce back if we all support each other
But for now….
Bolder Athletic Wear is going into temporary hiatus while we re-tool our factory to provide Personal Protection Equipment for hospitals here in central Florida.
We will STILL finish all current Individual Custom, Team and Pre-Order orders and get them out to you as soon as possible.

You will STILL be able to order anything from our warehouse and use the discount code*:

STILLBELIEVE15

but we cannot produce anything new (except those listed below) until further notice. 

https://bolderathleticwear.com/collections/we-still-believe

Made-to-order items such as SparkleLight skirts, PixieLight skirts, TwinkleSkirts, headbands, BolderBuffs and custom sleeves can STILL be made (in our smaller facility) pending fabric availability. Please allow for possible short delays because most of our sewing specialists will be tasked with finishing 10,000+ medical products per week.

We are STILL available at 813-759-6000 or

customerservice@BolderAthleticWear.com

if you have questions.
Thank you for your support while we endeavor to help those around us.
Thank you to our medical workers across America!  
#WeStillBelieve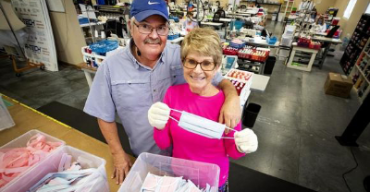 Thank you for your continued support of our small business!
*No duplicate discounts allowed, please.  Reward Points can be redeemed and accrued during the hiatus.